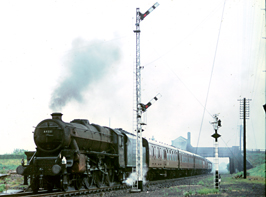 The three recordings are:
A) 44811 departing south from Ashby Magna at 6.10pm with the 7 coach 5.15pm Nottingham to Marylebone service. The station was close by the newly opened M1, listen closely and you can hear the traffic.
B) 44847 departing Ashby Magna at 7.11pm with the 3 coach 6.15pm Nottingham to Rugby stopping train.
C) 45267 leaves Aylesbury for the north at 3.38pm with the 2.38pm Marylebone to Nottingham service.
Below are Eric Parker's diary entries for the day.