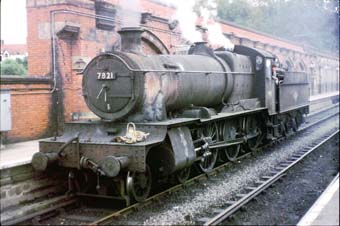 With no cabside number plate, name plate or shed plate plus looking filthy, 7821 Ditcheat Manor seems just one step removed from the scrapyard. Looks can be deceptive - at 2.30pm 7821 will head the premier down service of the day to Aberystwyth, the Cambrian Coast Express.
The three recordings, on each of which I have left my father's announcements, are:
A) 73158 running light engine to the shed.
B) 7821 moving stock in the station.
C) 7821 departs on the Cambrian Coast Express.