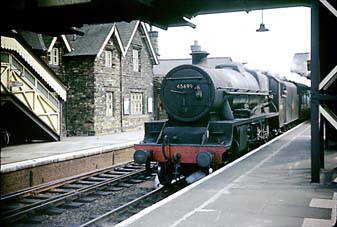 The first thing I must do is apologise for the terrible 'English' pronunciations on these recordings done at the time by my father and me of Welsh place names - thanks to coaching from Gwyn Briwnant-Jones I am much better now. Also, that 'squeaky' lad really is me (aged 12) before my voice broke.
This mid-week tour (it must have been school half-term) was from Hereford to Pontypool Rd, Neath, Swansea High St, Swansea East Dock shed (for me to see 51218), Swansea Victoria, Pontardulais, the Central Wales line to Craven Arms and then back to Hereford.
The recordings are:
A) 41xx climbing the bank between Pontypool Road and Pontypool Clarence Street plus arrival and departure from Clarence Street.
B) 41xx departing Hafodyrynys Platform down the bank towards Crumlin Viaduct.
C) 41xx arriving and departing Hengoed High Level plus departing Nelson & Llancaiach. Listen for the station announcements at Hengoed and also a 56xx hauling northbound empties on the Rhymmney line.
D) 41xx at Trelewis Halt and Treharris. The track is sharply curved here and the wheels can be heard expressing their disapproval!
E) A long recording all the way from Cynghordy to Sugar Loaf Summit with now preserved 45699 'Galatea'. I remember being totally confused over how to pronounce Cynghordy and we passed a DMU here on crew training, steam ceased on passenger services in the June.
F) 45699 departing Llangunllow.
G) A line side recording of 45699 leaving Craven Arms for Shrewsbury. The RAF appear on this and rather overload things - I think it could be a Hunter(s).
The accompanying cine film has been released on video, click on Vale of Neath or Central Wales for details.