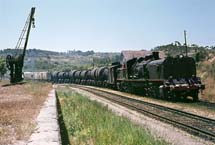 With the steam declining rapidly in the UK, Jim Clemens decided that summer family holidays should be taken in Iberia. This volume covers the rail scene in Spain and Portugal between 1965 and 1969.
The first holiday was at Sitges, south of Barcelona. In addition to modern traction, a Hungarian-built Ganz diesel railcar from 1936 is seen on an Inter-City working. Working steam included 4-6-0s, 2-8-0s, 0-8-0s, and even 4-6-2 Garratts on shed. We travel along the Reus to Salou road-side tramway in coaches made at Loughborough! Barcelona and its tram system are also visited.
The Summer of 1966 found the family on the Costa Blanca. The ESA narrow-gauge system is covered along the coast through Benidorm to Denia. The British-built Alcoy & Gandia narrow gauge line is visited and included Isle-of-Man looking 2-6-2Ts. We see the Alicante tram system that closed in 1969 and visit Alicante broad-gauge engine shed, while the now-closed Benalua terminus included an 1880's 0-6-0 as station pilot. More Garratts are seen at La Encina and Jativa.
Northern Portugal was the destination in both 1967 and 1968 (1968 only in this volume). The broad-gauge includes Viana do Castello and the Douro Valley line. The extensive narrow gauge system still operated much steam and we include rush hour at Oporto Trindade, Boa Vista (including trams) and Sernada do Vouga. We see 2-6-0Ts from the 1880s, impressive 2-8-2Ts from the 1930s, 0-4-4-0 Mallets, and even the asymmetric 2-4-6-0 Mallets.
The base in 1969 was Tarragona. By this time the Garratts had been concentrated here; watch them on freight workings to Reus and Lerida. The Madrid passenger service at Lerida was still steam worked and we see 2-8-2s, 4-8-0s, plus the giant 4-8-2s. More steam is seen at Mora La Neuva, even the 4,000hp Spanish version of a 'Warship'! The Reus to Salou line is again visited and we see some of the Tarragona to Reus trolleybuses.
Filmed in colour, a commentary plus sound track complement this look at the railways of lberian between 1965 and 1969..
Cover photo: Jim Clemens, Garratt 2-8-2+2-8-2 hauling a freight from Tarragona to Lerida, July 1969.