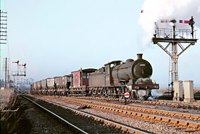 Jim Clemens Collection No.26. British Railways steam came to an end in the North Eastern Region in September 1967 and views of these workings are seen at RYEHOPE GRANGE along with the last passenger workings on the ALNWICK branch featuring K1 2-6-0 and Q6, J27 & 9F hauled freight trains at Tyne Dock in 1966.
Back in regular BR steam working days, we visit DARLINGTON to see A1 and A2 Pacifics, V2 2-6-2s, WD Austerity 2-8-0s, Jubilee 4-6-0s and Ivatt 4MTs.
Industrial steam and electric action in 1967 features BACKWORTH, WIDDRINGTON, SOUTH HETTON, BURRADON, HARTON (Overhead Electric pre WW1) and DOXFORD, plus the former BOWES incline being worked manually.
We then visit BEAMISH Museum to see 0-6-0 J21 and the replica Locomotion No.1 in steam followed by scenes of ex-LNER locomotives including Flying Scotsman at the Shildon 150th.Anniversary Cavalcade event in 1975.
Lastly, we feature coverage of the K1 No. 62005 railtour in May 1967 from STOCKTON to CATTERICK and much, much more.
The film has been mastered with an authentic sound-track and researched in detail to give an informative commentary.
Cover photo: Jim Clemens, 65894 at Ryehope Grange in spring 1967.