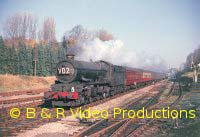 The first in a series featuring scenes of the former Great Western Railway using archive film from the 1920s all the way to the diesel hydraulic era in the 1960s. In this part we predominately feature express classes. The early GWR scenes are a complete contrast to steam on the Western Region in its last five years from 1960 to 1965 and this production is appropriate for the 175th anniversary year of the GWR.
We start with a prelude of the broad gauge using the 1935 and 1985 re-enactments followed by extensive and detailed footage of the King, Castle and County 4-6-0 express classes. There are many scenes of these locomotives taken from all over the territories of the former GWR and Western Region of British Railways. From Paddington in London to Penzance in the Far West; to Worcester & Birmingham in the Midlands; to Swindon & Bristol; these are just few of the many locations visited.
There are special events, tours and normal service train workings of both passenger and freight over this well loved railway. A short sequence features the early diesel hydraulics with D600s, Warships & Westerns.
As a preview of Part 2, we conclude with views of Halls, Granges, Manors, Dukedogs, 2-8-0, 2-8-2T & 47xx freight classes & panniers plus a visit to the narrow gauge Welshpool and Llanfair line.
Older scenes are in black and white but the majority is in colour. An extensively researched commentary has been added along with an authentic sound track.