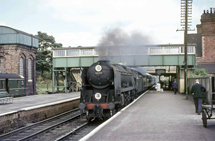 The second in our miscellany series covering Southern steam. SR  STEAM MISCELLANY NO. 2  features much unseen film from the Jim Clemens collection, is largely assembled in the order the film runs off the original cine reels, and features a wealth of mainly South Western Division Steam.
The first 10 minutes or so take us on a journey over the Lynton & Barnstaple Railway; in the 1960s Jim Clemens purchased two 16mm reels covering this much missed line and both are included. The main body of the film begins at London Waterloo, there is coverage around Clapham Junction, Hook, Basingstoke, Micheldever, Bentley, Bordon, 'The Alps', Eastleigh Station plus the Shed & Works, and Southampton Central (including Queen Mary and Queen Elizabeth). The Warwickshire Railway Society's 'Farewell to Steam on the LSWR' rail tour on 11th June 1967 is covered in some detail. On the Isle of Wight a journey is made from Cowes through Newport to Ryde Pier Head. Time is spent on New Year's Day 1967 watching the Lymington branch (the last steam operated branch line in the country) plus main line activity at Lymington Junction and Brockenhurst.
Jim Clemens married in February 1948, honeymooned at Bournemouth, and often visited this popular seaside resort for an anniversary break. Thus, there is considerable amount of film around this area covering the last years of steam that includes Christchurch, Bournemouth Central, and Bournemouth West. A journey is made in the snow over the old Salisbury & Dorset Railway in the snow during February 1963, and time is spent around Salisbury itself. An M7-propelled trip is taken from Wareham via Worgret Junction to Corfe Castle and Swanage. There is coverage at Dorchester, Upwey & Broadwey, Weymouth, plus film of Weymouth shed.
A cross section of 1960s SR motive power is seen including: M7, O2, Q, S15, U, USA, West Country, and Merchant Navy. BR Standards put in an appearance of course: 73xxx, 75xxx, 76xxx, 80xxx, & 82xxx plus not forgetting a sprinkling of LMS class 2 2-6-2Ts – even a 'Warship' diesel.
Filmed in colour and black & white it dates mostly from about 1963 to 1967. A commentary plus sound track complement this nostalgic look at the last years of Southern steam.
Cover photo: 34095 219 Squadron arrives at Axminster in the summer of 1964 (Alan Maund).