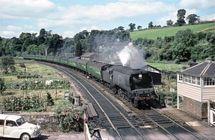 The first in our miscellany series covering Southern steam. It features unseen film from the Jim Clemens collection and is largely assembled in the order the film runs off the original cine reels. Southern Steam Miscellany No. 1 features a wealth of SR steam with a particular emphasis on the Withered Arm, the Basingstoke area, the Somerset & Dorset, and between Weymouth and Lymington Pier.
In the 1960s Jim Clemens purchased directly from Pat Whitehouse a significant quantity of original 16mm offcuts and unused film relating to the BBC 'Railway Roundabout' TV programmes. Some of this material has been used in this video and includes a journey from Bath Green Park to Evercreech Junction with 53807, and T9s operating on the Withered Arm.
More specifically, it includes: Barnstaple Jnct to Torrington and Halwill, Bude, Basingstoke (particularly 1962 and 1967), Exeter, Micheldever, Eastleigh, Wilton, Gillingham, Templecombe, Corfe Castle, Worgret Jnct, Umberleigh, Bulford, Bentley, Wadebridge, Otterham, Yeovil Town & Jnct, Hampton Court, Weymouth, Weymouth shed, Upwey & Broadwey, Upwey Wishing Well Halt, Dorchester South, Bournemouth, Brockenhurst, the Lymington Branch, Bath Green Park shed, Devonshire Tunnel, Midsomer Norton, Shepton Mallet, Evercreech Jnct, Tavistock North, Okehampton, Seaton Jnct, and Evershot Bank,
A cross section of 1960s SR motive power is seen including: M7, Beattie Tanks, Q, Q1, 700, T9, S15, W, N, Lord Nelson, King Arthur, Schools, West Country, and Merchant Navy. BR Standards also put in an appearance: 73xxx, 75xxx, 76xxx, 80xxx, 82xxx, even a 92xxx, plus not forgetting a sprinkling of LMS class 2 2-6-2Ts and a solitary 'Black 5'.
Filmed in colour and black & white it dates mostly from about 1960 to 1967. A commentary plus sound track complement this nostalgic look at the last years of Southern steam.
Cover photo: 34086 219 Squadron at Crediton on 18th August 1962 (Alan Maund).