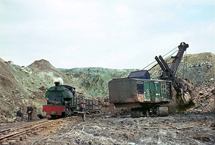 Jim Clemens had a passion for steam that did not end just with BR, as he also took a keen interest in the industrial railways of Britain. This video miscellany covering 'The Ironstone Railways of the East Midlands' is a compilation of the entire ironstone film archive he created, and has been assembled in the order the film runs off his original cine reels.
The most extensive ironstone system in the country was at Corby; this comprised about forty route miles of track and it was around ten miles between the most northerly and southerly points. It boasted a fine newly-built (1954) engine shed with eight roads and rollup shutters. A number of visits were made here in the mid-1960s, plus also trips commemorating the end of steam at the quarries (1969) and the steel works (1973). Included are the World's largest quarrying machine (1,675 tons of it!), the Corby complex's 'Indus' 0-8-0 diesel, plus ex-BR Class 14 D9547.
The narrow-gauge Kettering Furnaces system is visited during June 1961; this also included a rare Lingford Gardiner-built standard-gauge locomotive. Another narrow-gauge ironstone line is seen at Scaldwell where this railway's eponymous locomotive is at work during May 1962. The last operating narrow-gauge ironstone system was Finedon Quarries, Wellingborough and visits were made here in 1961 and 1966. The whole process is seen: empties on their way to Finedon quarry, loaded wagons on their return, the very narrow tunnel under the Midland Main Line, plus also the rather daunting transfer method used from narrow to standard-gauge.
The newest ironstone system in the Midlands was at Exton Park, and in 1963 we can admire their fleet of clean and modern 0-6-0s dating from the 1950s. Visits are made to the Irchester complex near Wellingborough, plus also Storefield, Blisworth, Pitsford, Loddington, Hanging Houghton, Desborough, Pilton, Charwelton, Cranford, Oxfordshire Ironstone Quarries near Banbury (including a 'Sentinel'), Byfield, and concluding at Nassington. An ironstone enthusiast's delight!
Filmed mostly in colour on both 8mm and 16mm film, a commentary plus sound track complement this look at the ironstone railways of the East Midlands between 1960 and 1973.
Cover photo: No. 87 at Finedon Quarry (Wellingborough) in September 1966.